Would you drive an hour to discover the track listing for your favourite singer's new album? How about crossing town on the off chance they'll busk in a park? Or does the thought of diving into the sacred waters of a local lake to retrieve a relic on their behalf appeal?
If you were following Shakira on Twitter in the build-up to the release of her 11th album, "El Dorado", then you could have answered all these questions directly. The Colombian megastar trailed her new, chart-topping record in all of these ways and more as she looked to find a way to directly engage her 150-million plus followers across Twitter and Facebook.
With this goal in mind she turned to the Landmrk platform, which enabled Shakira and her team at Sony Latin America to position 'goldspots' around the world -- across 99 countries in almost 1,000 locations -- where digital 'treasures' were hidden, including handwritten lyric sheets, behind the scenes rehearsal footage and the opportunity to take a Shakira-filtered selfie. Landmrk, which is app-free and fully supported by the mobile web, was accessed in a single click from a shared URL, giving users direct access to a branded map showing their location and that of the nearest goldspot. When reached, these unlock and the experience is revealed.
"Just spent an hour driving around like a buffoon, trying to locate a hidden treasure," Tweeted Nikki Giuseffi with the hashtag #shakiraeldorado, which trended in territories from France to the Philippines. "Worth every mile!" She was one of more than 100,000 fans to click on the link on Day One of the 14-day campaign, which opened with a worldwide hunt for the album track listings. Once all 13 were discovered, @Shakira sent out the album artwork, saying: "Good work! You unlocked the full 'El Dorado' tracklisting. More treasures coming tomorrow…"
Alongside these global reveals, the team at Sony Music Latin also engineered hyper-local happenings and used Landmrk to direct fans towards them. May 17 saw Shakira suggest: "NYC check your goldspots, the goldest of them all. See you soon, Shak." Shortly afterwards she turned up at Washington Square Park with band and performed "Chantaje" for anyone who made their way there.
[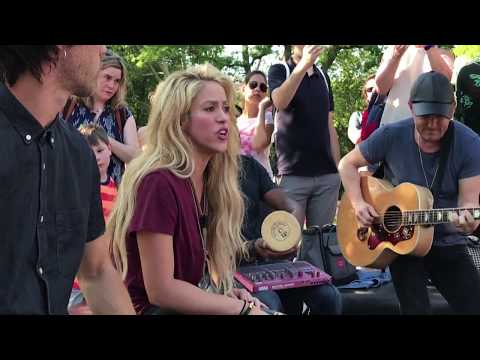 ](http://www.youtube.com/watch?v=wQGGDVBhhHU"Shakira - Chantaje (Live in Washington Square Park / En Vivo en Washington Square Park)")
Similarly, fans in her native Colombia were invited to "Find the El Dorado at the sacred lake of the Muisca where the myth began and you can win Shak's music too. Go!" -- triggering a race to Lake Guatavita just outside Bogotá, a gentle wade in the waters and the recovery of some real-life submerged treasure.
Come the hugely successful May 26 release of "El Dorado", the Landmrk campaign had driven more than 800,000 page views, with fans devoting almost 5,000 hours to tracking down treasure. One in five fans who accessed the platform returned repeatedly to unlock new experiences, and 10% of people who unlocked locations produced their own Shakira Golden Selfie. The album topped charts in 31 countries on release, was no. 1 on the Billboard Latin Albums list and proved the best-selling Latin album in over two years. And all this with what Team Shakira described itself as "minimal promotion".
From the Landmrk perspective, what #ShakiraElDorado has shown is how not only can campaigns be given a localised layer -- the idea that an artist or brand is making an effort to target your city or country expressly -- but that this can then be easily transformed into an almost 1:1 scenario (as in Washington Square Park), and then redelivered as a global experience via YouTube or similar. What such a rich and varied campaign has also helped us understand better is how audiences can be motivated: is a video enough, or does there need to be actual gold at the end of the rainbow to get people up, out and fully engaged?
Beyond Shakira, the latest leg of the Landmrk journey involves directing drinkers towards free Carling Cider at Tesco's… and potentially a cameo in dance music artist Jonas Blue's next super-slick music video.
Read more about that project here and drop us a line at hello@landmrk.it to talk more about what you could achieve on the platform.